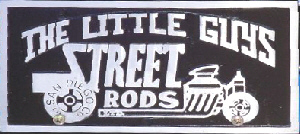 The Little Guys Street Rods were founded in July of 1976 by Larry Iams and Dan Garver, along with three friends.  Unlike the Big Guys, who had lots of money to buy their car already completed, the "Little Guys" built their own cars and the name stuck.  The club has grown considerably since that early beginning with five "Little Guys" to a family oriented club with approximately 50 member families enjoying their special interest cars and the fellowship our sport brings us.  Currently membership is restricted to pre 1973 American made automobiles.  If you are interested in membership contact us or attend one of our meetings.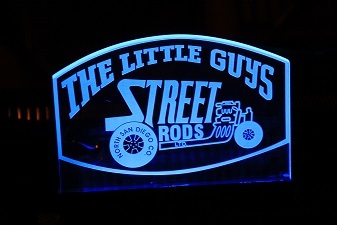 We have our Business Meeting on the second Tuesday of every month and currently are meeting in the large room at Coco's Restaurant on the corner of Melrose and Vista Way, in Vista.  We start the meeting promptly at 7pm and most of us meet earlier (5:30-6:00) for dinner and to visit with friends.  The food is good, prices reasonable and the friendship genuine.  Guests are always welcome.

Click on map for directions and Coco's website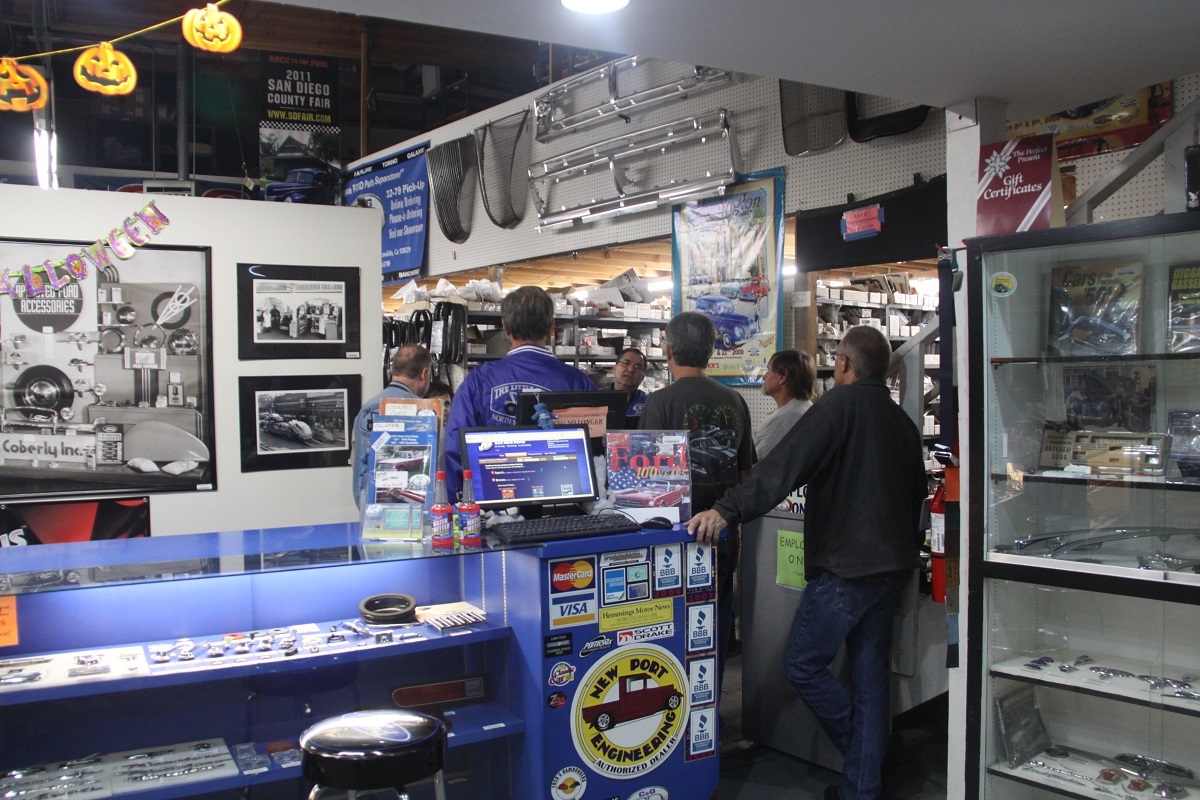 The fourth Tuesday of every month, except November and December, is our Garage Meeting.  This could be held just about anywhere, as long as there is an automotive theme.  We have visited; Hot Rods & Custom Stuff, Richer Auto & Truck Electric, Dalenz Torque Converters, SOS Upholstery,  Machine Tech Engine Builders, Palomar College Auto Program, Craftsmanship Museum, Walk-in-Time Museum, Deer Park, West Coast Tire & Wheel, and many more.  In other words, if it is in the North County and auto related, we have probably been there for a tour and presentation.  In most cases guests are welcome to attend.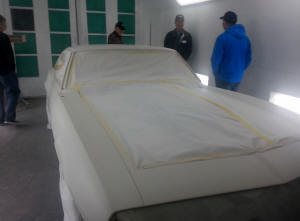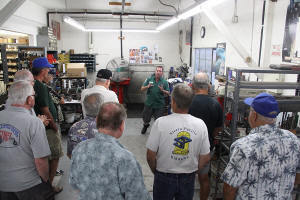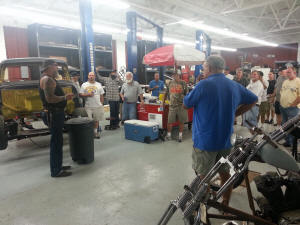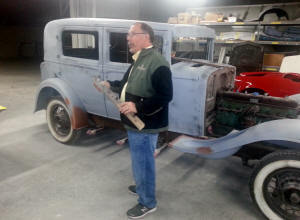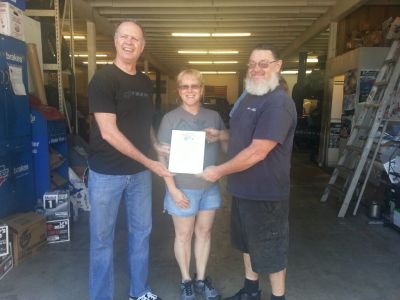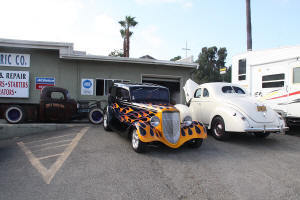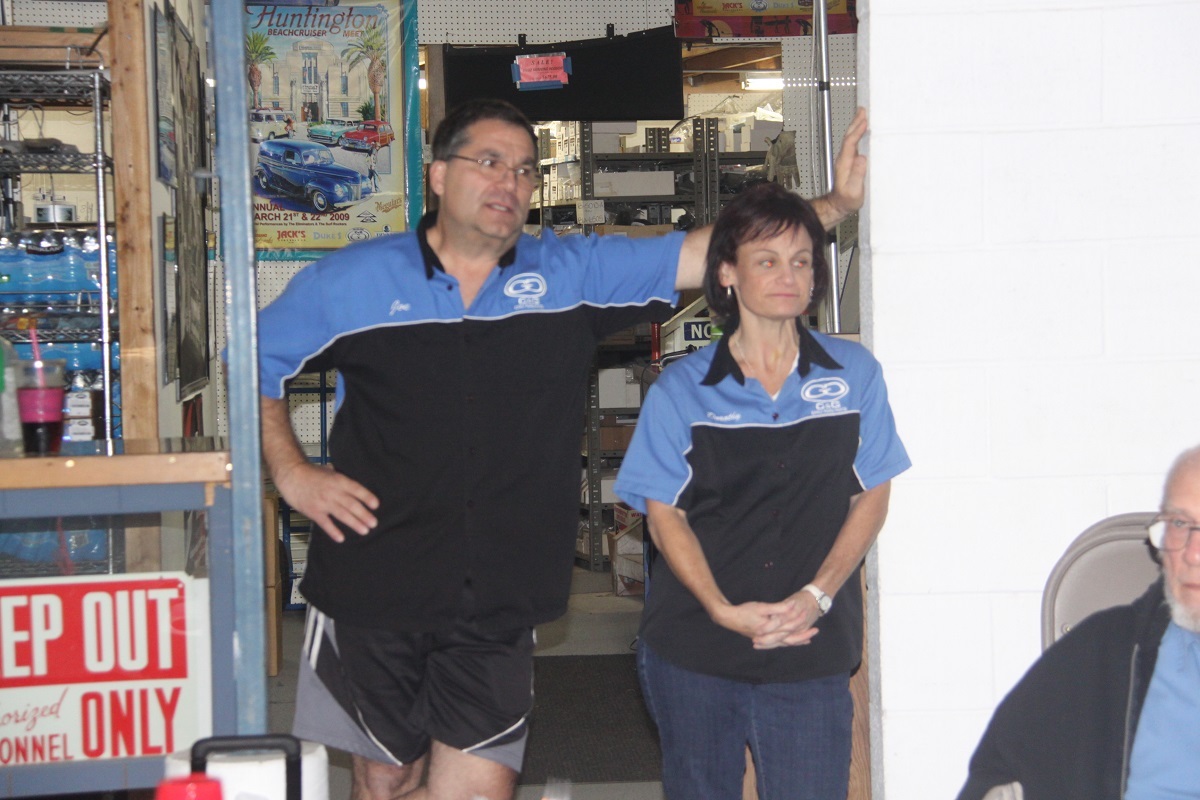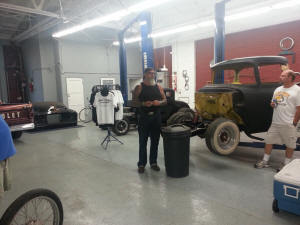 We are also very involved with our community.  For over 5 years we have been providing local senior facilities with car shows for their 50's Day Celebration.  This is a ton of fun and the staff usually dresses in period costume and they feed us burgers and all the trimmings.  We have done shows for Silverado, Fair Winds, Vista Garden and a half dozen other facilities.  We participate with vehicles in parades and special civic events; have been the host club for Cruisin Grand in Escondido and the opening night host club of Encinitas Cruise Night.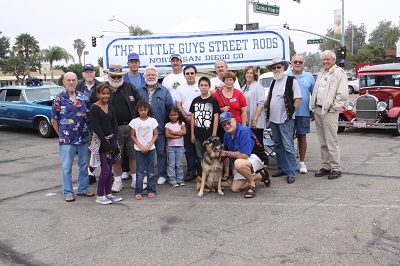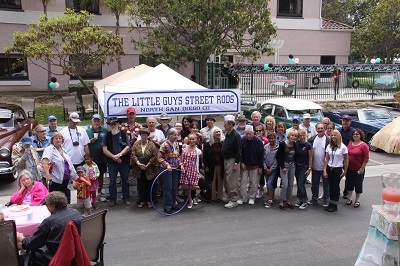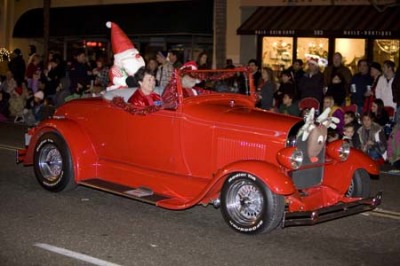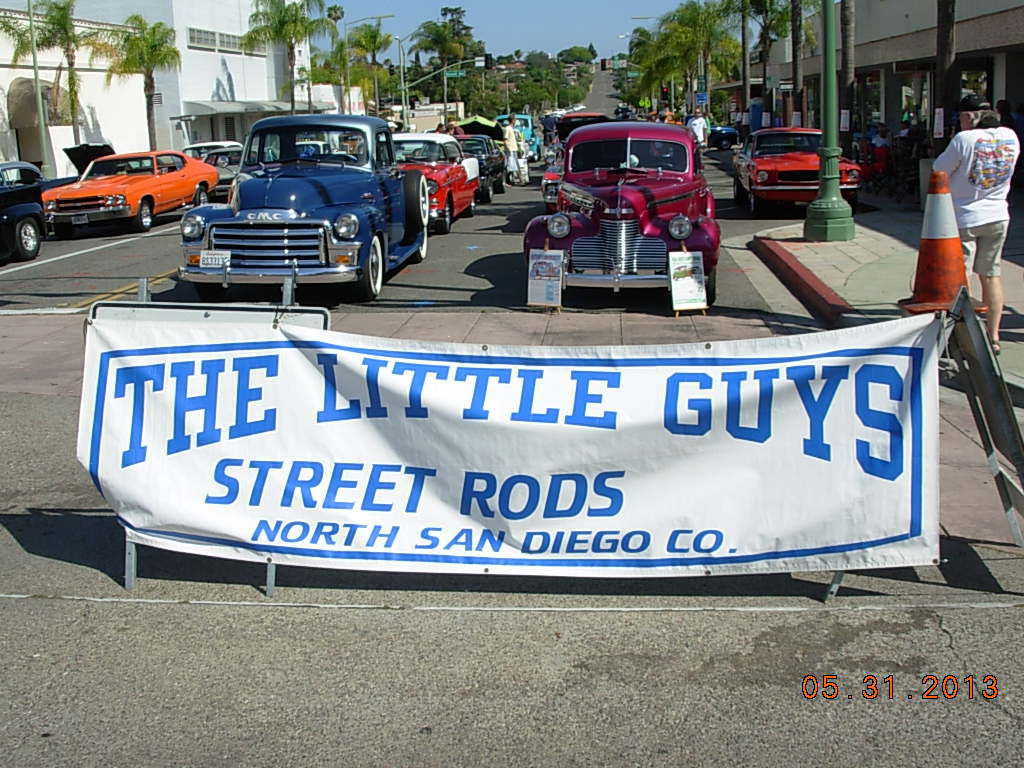 ​
We are fiercely patriotic and support our local Marine Corp YMCA.  Each year we raise money; by doing a club garage sale, auctioning off items at meetings, member donations, etc.  The money raised is donated at the December meeting to the Armed Services YMCA on Camp Pendleton.  The money is used to support the Marines and Sailors and their families with things like emergency car repair, groceries, rent subsidies, etc.  Our goal each year is a minimum of $1,500, but we usually double that amount.  We also will provide cars for various units' activities on the base whenever requested.  We have also donated thousands of dollars to other local and national charities.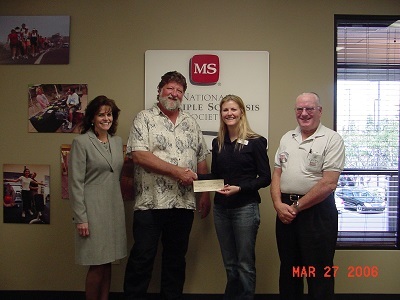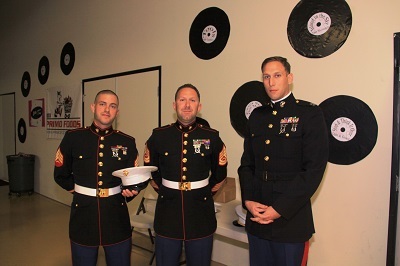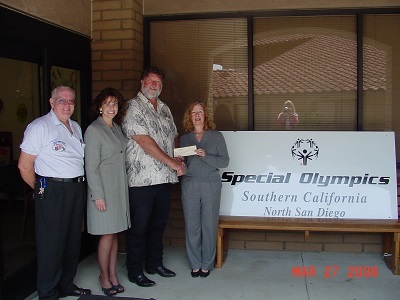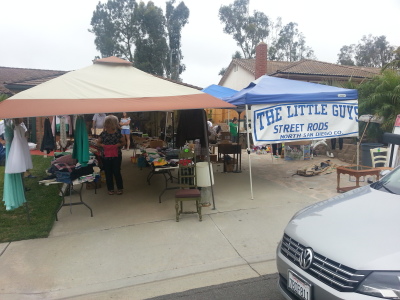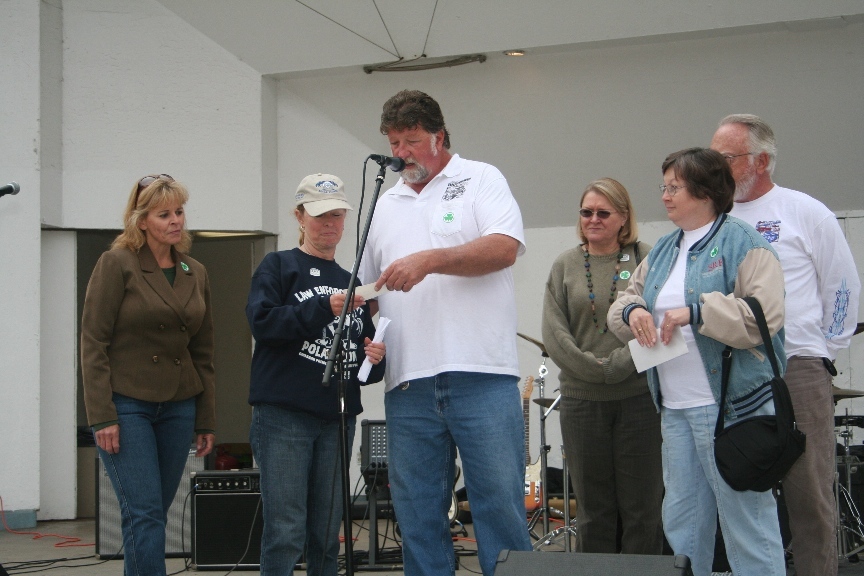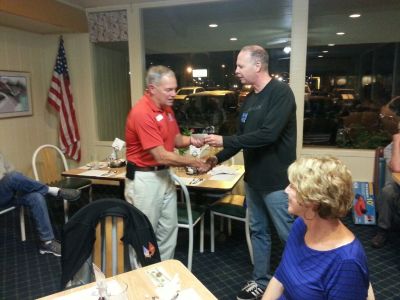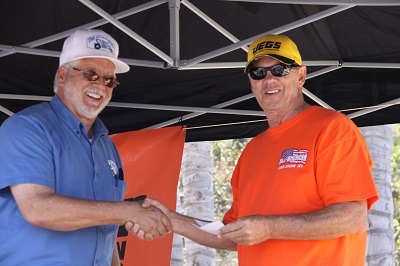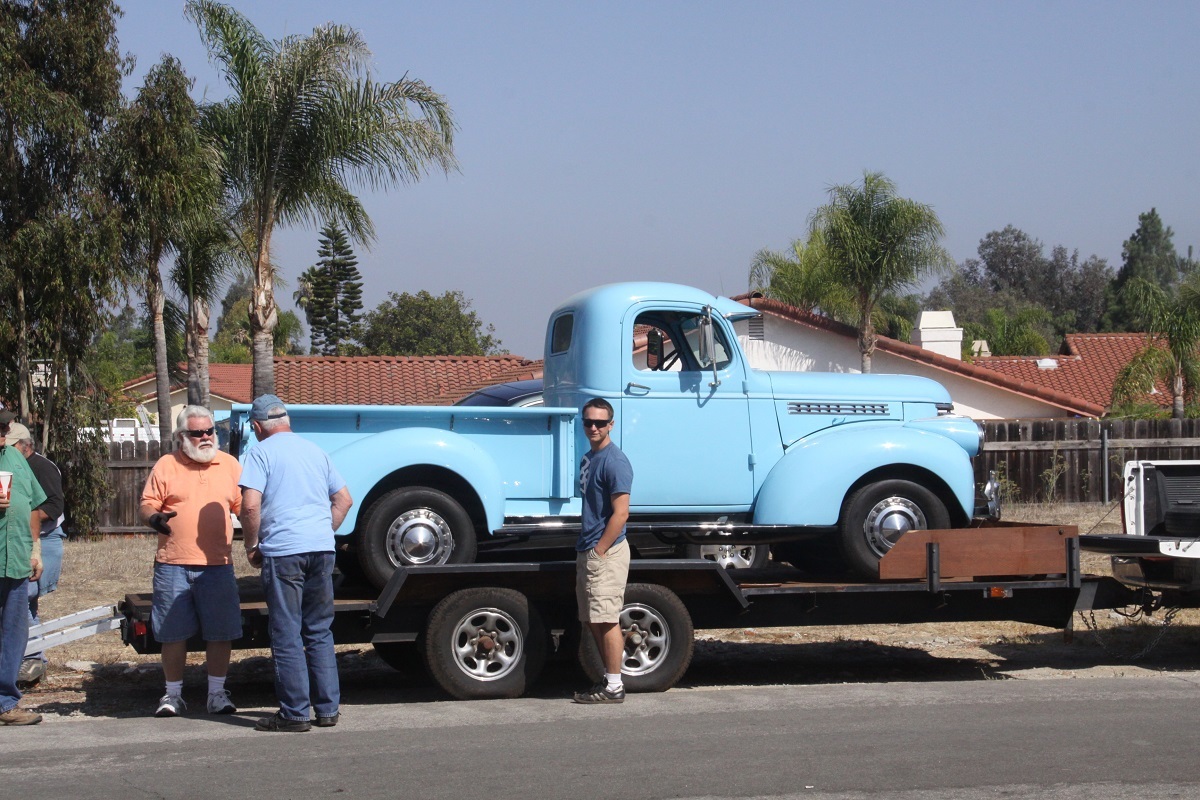 Help wanted?  We love to help each other with work on our cars.  We will gather early on a Saturday morning for breakfast, usually at the Coyote Café in Vista.  Then we will travel to a member's home to help with their car project.  We have set up 4 link systems, installed power windows and power brakes, rebuilt carburetors, prepped cars for paint, rewired cars, etc.  We have many members who are very skilled and members who are not, but we all work together and get a lot of work done at these meetings.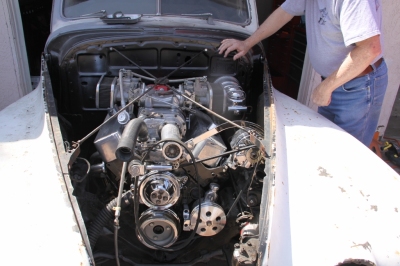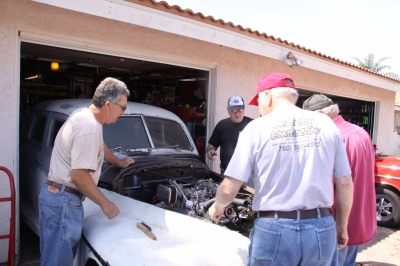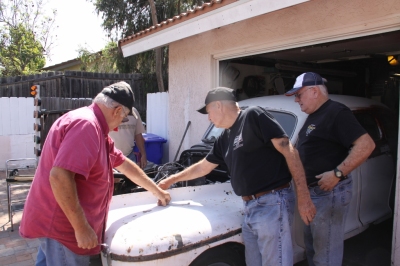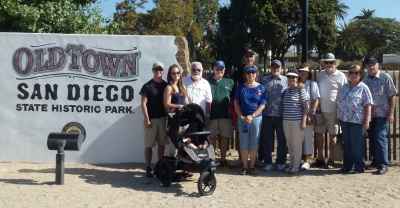 Car shows are another big part of the Little Guys.  We have hosted many shows over the 40 plus years as a club and participated in thousands of shows.  We will usually meet somewhere before a show and caravan into the venue so that we can park together.  When we host Cruisin Grand, we have a pot luck set up on the sidewalk and everyone gets stuffed with great food.  We also have a Spring and a Fall picnic where we bring a dish to share and our own meat to barbecue.  The Fall Mountain Run, A road run to an interesting venue where we have lunch and visit some cool place in Southern California.  Every year the club has a Christmas party at a nice facility with a gift exchange.  We occasionally do non-car stuff.  We have taken the Coaster Train to Old Town and spent the day visiting the buildings and shops.  We also took the Coaster to the Santa Fe Station and then toured the Midway Museum.  We have done overnight trips to car shows outside our area too.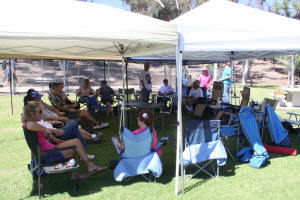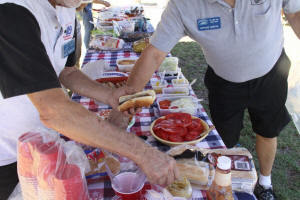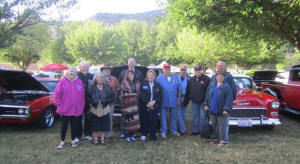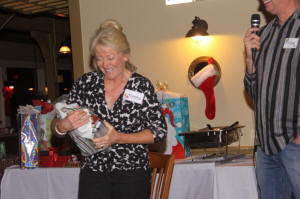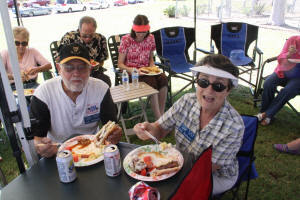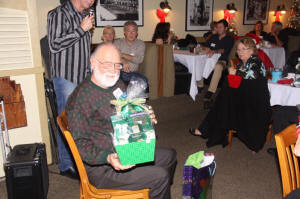 2017 Christmas Party

The Little Guys had their annual Christmas Party at the Oceanside Elks Lodge.  Great food, fun gift exchange and good friends enjoyed a fun event.  Some amazing gifts were exchanged and everyone had a great time.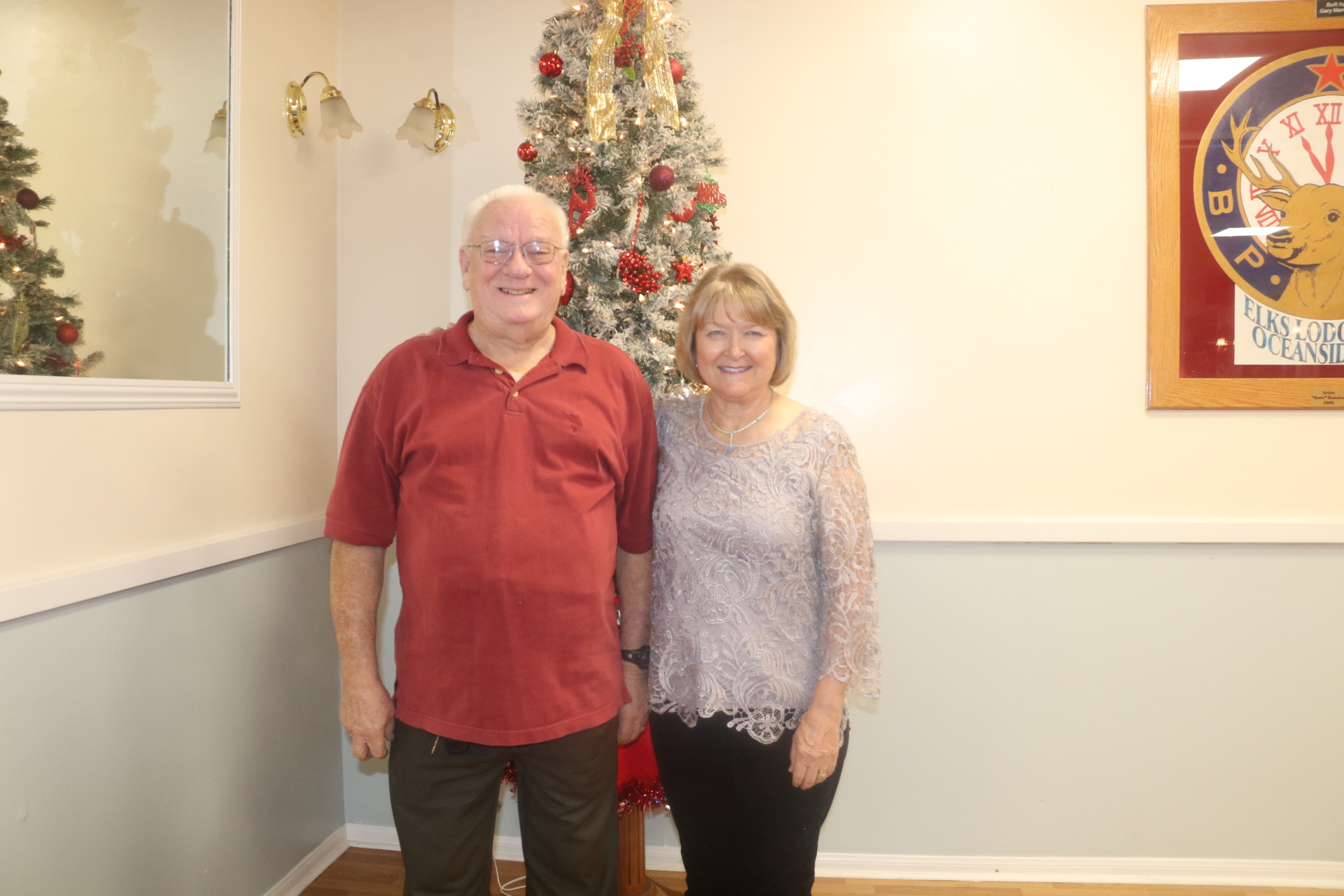 El Corazon Senior Sock Hop
The Little Guys provided four cars to welcome the seniors to the El Corazon First Annual Sock Hop.  Ray Jacobs brought his 23 T, Barbara and Gerry their gorgeous 55 Chevy Bel Air, Tim Held showed off his super clean 66 Mustang and Terry & Bonnie brought their 64 Chevelle.  Lots of event goers had their photos taken by the cars and there was plenty of great food and entertainment inside.  Everyone had a great time with great music and lots of dancing.


Super Rides by Jordan

Jordan Jr. and Jordan Jr. II welcomed the Little Guys for a tour of their shop and some of the incredible cars they are working on.  They have a secret project that we were allowed to see, but no photos at this time.  It will be world famous in the very near future and we got a sneak peek.  All I can say it is unbelievable.  Jordan brought his incredible coupe to the shop for us to admire.  Great visit and hopefully we can return again after the secret project has been revield.  


Family Fellowship Church
First Annual Car Show
Family Fellowship Church hosted their first annual car show in the parking lot of their church.  This was a free show for the car guys and gals with food and raffle prizes available.  Thirty trophies were awarded with the Little Guys winning 6 of them and most of us won raffle prizes too.  We gathered for breakfast at San Luis Rey Bakery and Restaurant, which is just across the parking lot.  Everyone had a great time and this was a great success for the church.

Frank Lewark Memorial

Frank Lewark joined the Little Guys about 13 years ago when he acquired a 28 Ford Model A.  It was Frank's dream car, but Frank was a large man and Model A's are rather compact.  After playing with the A for a couple years, Frank traded it in on a 47 Chevy Panel truck, which had a lot more room, and took the truck to all the Little Guys events until he became sick with cancer and had to stop attending.  Frank passed on July 12th, 5 days after his 75th birthday.  Frank was a Navy veteran and a retired police officer.  Frank was a friend to everyone in the club and will be missed greatly.  I know he is up in heaven, saving us all a parking space.  



Trip to Scripp's Birch Aquarium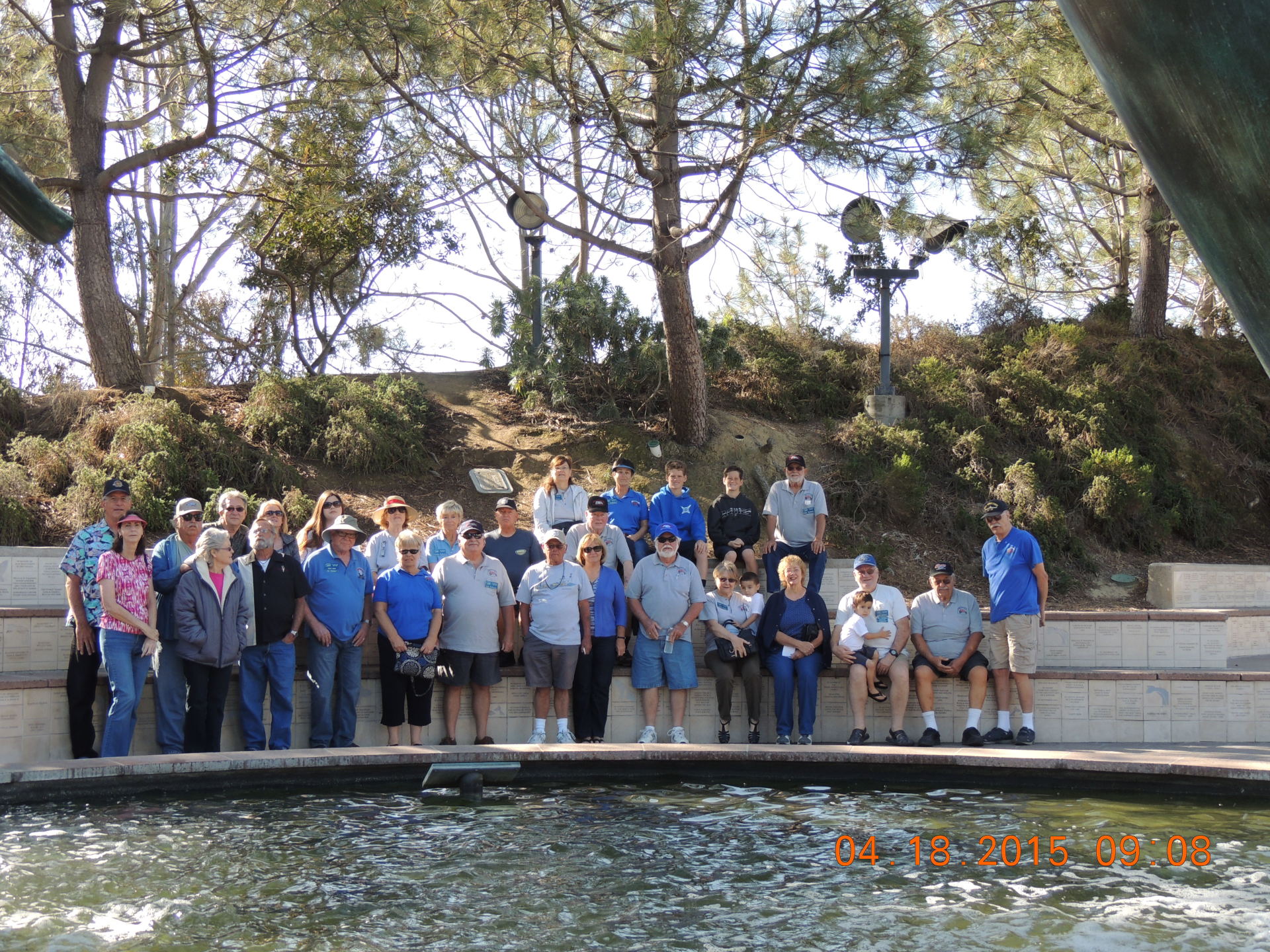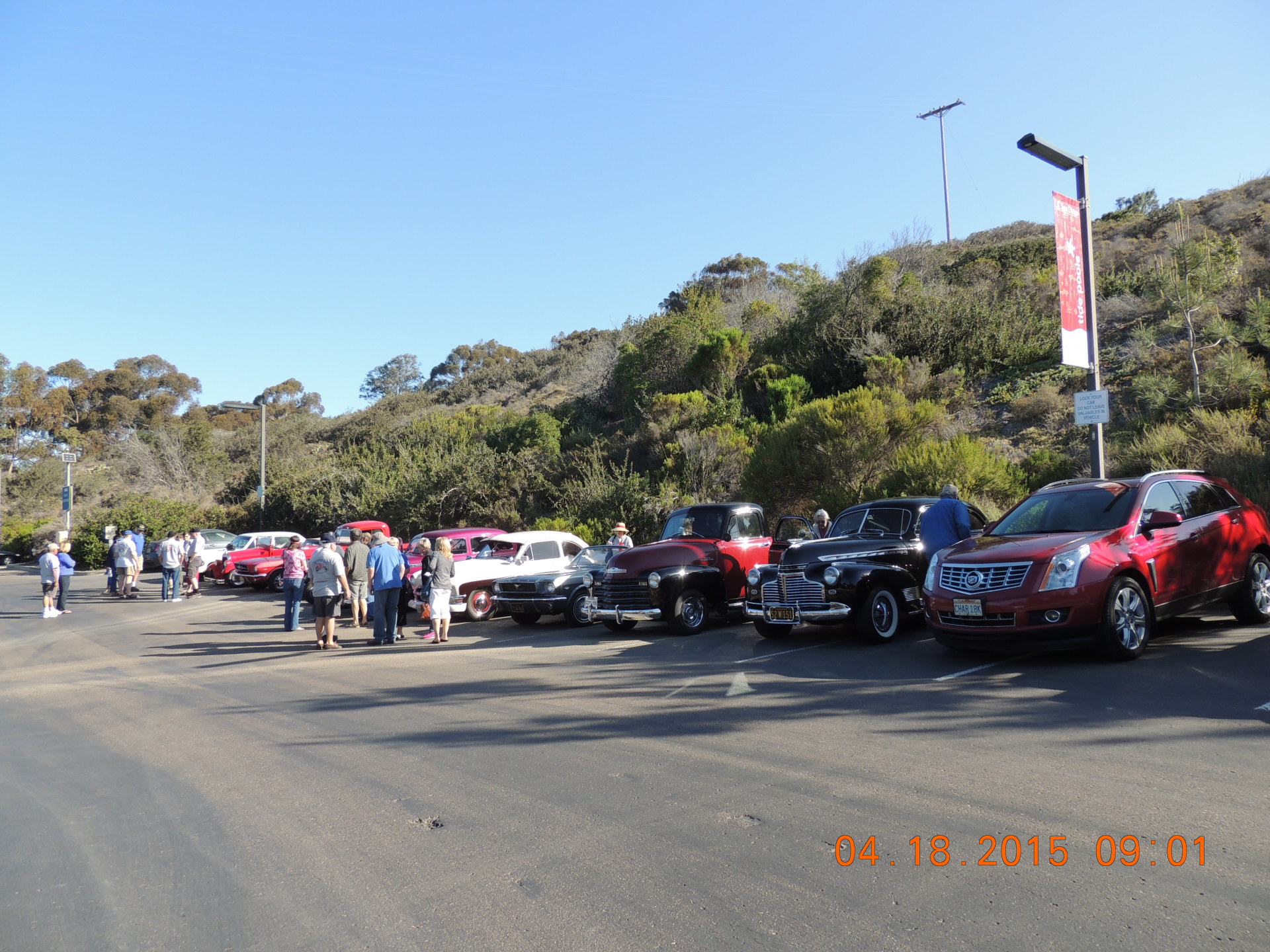 New Village Arts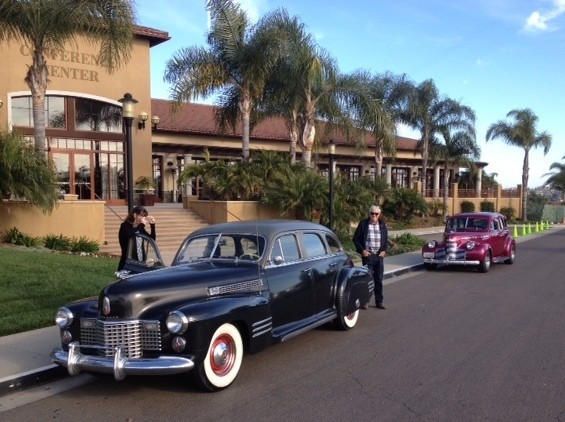 Fair Winds Retirement
The Little Guys provided about 20 cars for a 50's Day party at Fair Winds Retirement community.  We love these types of events and enjoy sharing our collector cars with the residents and staff.  


Annual Club Christmas Party
Every year at Christmas the club gathers for our annual Christmas party.  Great food, friendship and a fun gift exchange.  This tradition started at the home of one of our members, Norm & Dianne, many years ago and grew into an event with 50+ members in attendance.  


Car Shows
Car shows are a big part of what we do.  These photos are from the first annual So. Oceanside Elementary fundraiser.  During the spring and summer months our members can be seen at car shows all over the southern California area.


Annual Picnic
Every spring and fall the club gathers for a potluck picnic at Laguna Riviera Park in Carlsbad.  We barbecue our own meat and bring a dish to share.  Everyone brings their favorite and no one leaves hungry.  The park has clean restrooms, playground for the little ones and several barbecues.  Horseshoes and basketball and tennis courts with lots of grassy area makes for a great event.


Walk in the Past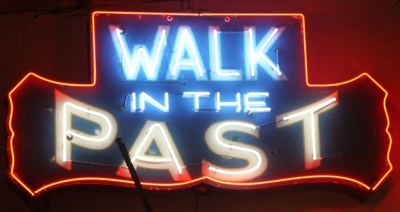 Little Guys members Charlie and Carol have their own private museum on their estate in Vista.  In addition to a collection of classic cars, they have a beautiful building, filled with antiques and collectibles.  Charlie and Carol hosted the club and provided dinner for the group.  Donations by the members went to the clubs Armed Services YMCA annual donation.  Thanks Charlie and Carol for a great event and donation to our service men and women.


Joe Free Thanked for 30 Years of the Burger Run

For 30 years Joe Free has worked tirelessly to put on the finest single day car show in San Diego County.  Each year for the year leading up to the event, Joe could be seen at just about every car related event in southern California, passing out flyers for the Burger Run.  He and Kris traveled the world looking for cool things to make the trophies and they got better and more of them as the years went on.  The event has grown by leaps and bounds each year, starting with a half dozen the first year to 600 this last year.  Circumstances prevent Joe & Kriss continuing this event and it looks like the 30th was the last year for this great show.  To thank Joe, The Little Guys presented him with a plaque, a Little Guys name badge and lifetime honorary membership in the Little Guys Street Rods.  Thank you Joe and Kris for all you have done for your fellow car guys and gals.

Steve Moore donated his 30th Burger Run shirt to the club for our Marine Corp YMCA donation.  Joe signed the shirt and it was auctioned off to Charlie Buel for $36.

Visit to March Air Force Base Museum
On April 22, 2017, The Little Guys visited March Air Force Base Museum.  We caravaned from the Park n Ride at 76 and I-15 to the Museum.  Members Gerry Fleming and Doug Clements are both Air Force Veterans and shared their stories of their time serving our country.  A fun tour of the Museum, including the planes parked outside the buildings.  Lots of fun things to do and some wonderful historic memorabilia.  After our tour, we caravaned to Richie's All American Diner in Murrieta Hot Springs, where we all had a great lunch and continued to tell stories.  What a fun day and thanks to Jerry & Maureen Heiss for making it all possible.